Cortizo launches the new 4900 Corredera system, a standard sliding window with excellent thermal and acoustic features, characterized by a straight and avant-garde aesthetic with a reduced central knot of only 35 mm that allows to maximize the glazed surface of the window, thus favoring the entrance of light inside the rooms.
The 4900 Sliding system allows combinations of up to 6 sheets, with maximum dimensions each of 2200 mm wide and 2600 mm high, and weights of 240 kg.
The new Cortizo slider was born as an evolution of the 4200, one of the most demanded by its customers in recent years, and stands out for its great thermal insulation (Uw from 1.2 W / m²K) and acoustic (Rw up to 40 dB ), characteristics that come favored by its great capacity of glazing of up to 36 mm, which allows the installation of triple glasses, as well as by the break of thermal bridge with polyamide rods of 34 mm.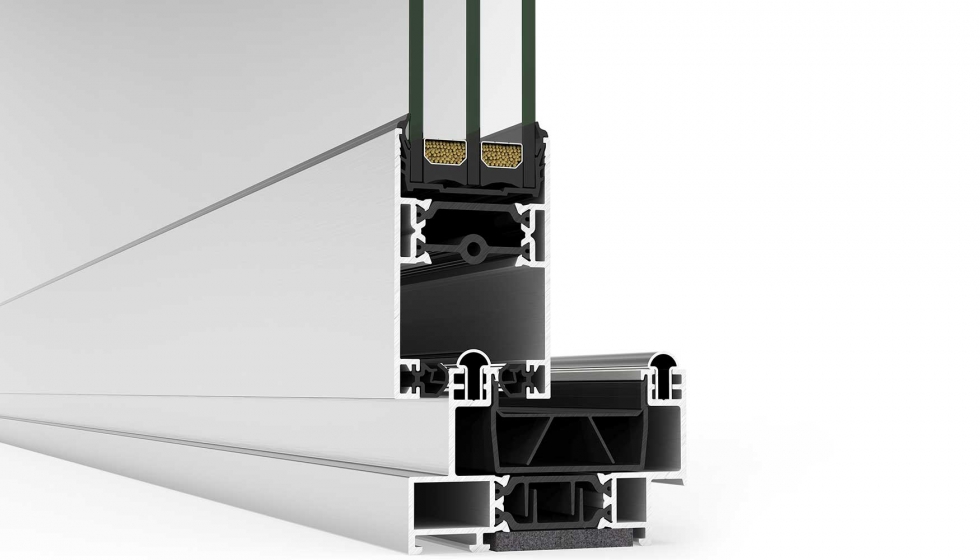 Detail of the new Cortizo 4900 series.
All these characteristics are reinforced by the great results obtained in the AEV test benches: Class 4 (air permeability); Class 7A (water tightness) and Class C5 (wind resistance).